PMC Announces Zoukoutap 3
PMC is excited to announce the debut of Zoukoutap 3 ("To Limp"). This 156-episode series will celebrate the beautiful people of Haiti - while working to impact some of the hidden, challenging truths of Haitian culture. It will be broadcast until June 2019 on Radio Caraibes, Maik 9, Radio One and 30 provincial stations. Zoukoutap 3 is written, produced and acted in Haitian Creole - a language spoken by over 90 percent of Haitians.
Notably, this is the third show to carry the Zoukoutap title – PMC is so pleased to be continuing this important work with our Haitian colleagues. Storylines for this new show focus on child protection, family planning, youth sexual education/reproductive health, sexual and gender-based violence, and gender equity. This extends and builds on many of the health and human rights themes from Zoukoutap 1 & 2.
Below are some photos from our launch party for Zoukoutap 3, highlighting some of our favorite moments from producing this show: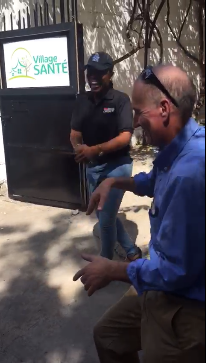 When you're happy, the beat takes over. . .
Fill out the form below to get exclusive access to see our Director of Research, Scott Connolly, dancing up a storm at the launch in Haiti!